Real-time Air Quality Monitoring
India's first affordable PM2.5 monitor with free data & dashboard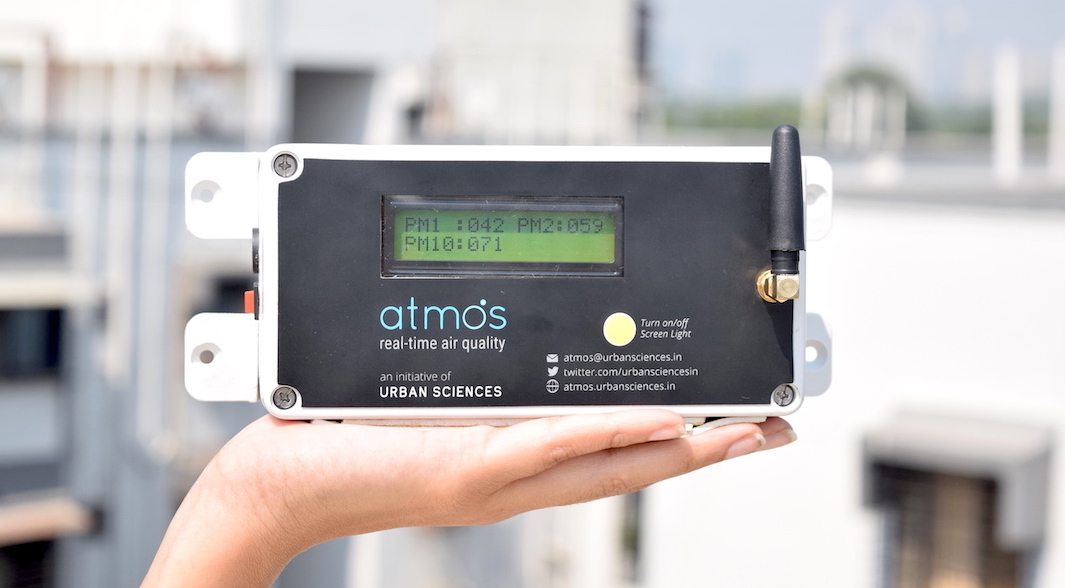 Atmos Features
Our monitors are scientifically validated to help families, air quality professionals, institutions and government make better air quality decisions.
Affordable
Our devices precise enough for academic or scientific purposes, whilst the cost ensures that it can be used by households and enthusiasts too.
Real-time Data
The data from the devices is transmitted every minute, and is available on our map-based dashboard.
Mobile Connectivity
Atmos is one of the few devices in the country that require no wifi network. It comes with an in-built GPRS/GSM module, that requires no setup whatsoever.
Measure what Matters
Particulate matter (PM) of different sizes affects our airways and lungs in different ways. Our monitor measure PM1, PM2.5 and PM10, in addition to temperature and humidity in the air around you.
Precise Calibration
Atmos devices have been scientifically validated against Federal Equivalent Method (FEM) grade equipment.
Easy to Install
When you buy an Atmos device, all you need to do is find a sheltered outdoor space to place it and a power outlet to plug it into. Without power the device's battery can last upto 8 hours.
Tech Specs
Measure Real-time Ambient Particulate Matter PM1, PM2.5 & PM10 µg/m3.
Measure Temperature (T) & Relative Humidity (RH).
Transmit this data in Real-time using an in-built GPRS/GSM module. Data is transmitted to a cloudserver using HTTP protocol.
Device has an in-built battery which can keep the monitoring device running for up to 8 hours.
Data will be available to be viewed on a map-based dashboard.
Real-time Air Quality data will also be available to download in a CSV file as well as available for integration in a mobile App or Website using APIs that we will provide.
Data is also stored internally on a MicroSD card. Users can download data locally from the SD card too.
The linear regression between the Atmos devices and the FEM equipment under different conditions has varied from 0.7 to 0.9.
To buy an Atmos device, contact us at research@urbansciences.in
Publications
Sahu, Ravi, Ronak Sutaria, Sachchida Nand Tripathi, et al. (2020). "Validation of Low-Cost Sensors in Measuring Real-Time PM10 Concentrations at Two Sites in Delhi National Capital Region." Sensors 20, no. 5 (2020): 1347.

Zheng, T., Bergin, M. H., Sutaria, R., Tripathi, S. N., et al. (2019). Gaussian process regression model for dynamically calibrating and surveilling a wireless low-cost particulate matter sensor network in Delhi. Atmospheric Measurement Techniques, 12(9), 5161-5181.

Zheng, T., Bergin, M.H., Tripathi, S.N., Sutaria, R., et al. 2018. Field evaluation of low-cost particulate matter sensors in high-and low-concentration environments. Atmospheric Measurement Techniques, 11(8).
-->